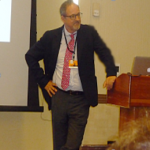 On this website, we review the results of clinical trials of the effects of oral Coenzyme Q10 supplementation.  We high-light human studies that show the following significant health benefits of taking a well-formulated CoQ10 supplement:
Improved symptoms and survival of heart failure patients
Reduced risk of death from heart disease and better maintained heart function among senior citizens
Improved quality of life for chronic fatigue syndrome patients
Faster recovery with fewer complications following heart surgery
Lowered systolic and diastolic blood pressure
Reduced frequency and intensity of migraine headaches
Why the need for CoQ10 supplementation?
Bio-synthesis of CoQ10 falling with increasing age.
Yes, our bodies do synthesize Coenzyme Q10 in almost all cells; however, the bio-synthesis of Coenzyme Q10 is a complicated multi-step process, and the extent of Coenzyme Q10 bio-synthesis decreases with increasing age once we pass our 20s.
Insufficient uptake of CoQ10 from the diet.
Moreover, it is difficult to get enough Coenzyme Q10 from our food alone to make up the difference in the declining endogenous production of CoQ10.  Remember, too, that it becomes more difficult to extract nutrients from our food as we get older.