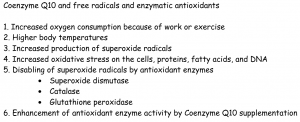 Oxygen is a strange element in our lives.  We cannot live without it.  We use it to burn nutrients to generate ATP energy in the cells.  So far, so good.

But, in the process of producing energy from nutrients – the process is called cellular respiration – some small portion of the oxygen produces a by-product: free radicals.  These radicals are atoms or molecules with one or more unpaired electrons in the outer orbit. There are many types of radicals; the radicals derived from oxygen – known as reactive oxygen species – are some of the most toxic radicals.

In moderate quantities, these free radicals have some useful inter-cellular and intra-cellular  signaling functions.  Moreover, the immune system's phagocytic cells use radicals to kill pathogens.  However, in large quantities, the highly reactive radicals that escape the respiratory chain of the mitochondria can be toxic to the cells.  They can damage DNA, RNA, proteins and fatty acids in the blood and tissue.

In fact, the definition of oxidative stress is an imbalance between the quantities of potentially harmful free radicals and the quantities of antioxidants available to neutralize the free radicals before they can set off damaging chain reactions.  The process of lipid peroxidation is one of the most common examples of toxic activity by oxygen-derived radicals; the radicals target the fatty acids in the phospholipid cellular membranes, i.e. the plasma membranes of the cells and the mitochondrial membranes.  The antioxidant enzymes are important for the prevention of lipid peroxidation.