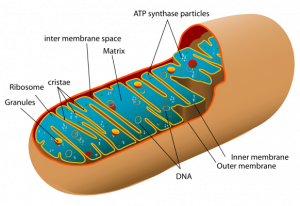 The mitochondria – those little bean-shaped organelles inside the cells – are the primary source of cellular energy.  Coenzyme Q10, both the Coenzyme Q10 the body synthesizes and the Coenzyme Q10 we get in our food and in supplements, is fundamental to the cellular energy production process.  That means that Coenzyme Q10 is fundamental to the normal functioning of all tissues that are dependent on energy metabolism.  The retina is an example of such tissue.
Why is Coenzyme Q10 important for patients with diabetic retinopathy?
The number of diabetes patients diagnosed with diabetic retinopathy continues to grow.
We need new methods to prevent and treat diabetic retinopathy, which is a complication of diabetes that is caused by oxidative damage to the blood vessels in the retina.
Oxidative stress – the overproduction of harmful free radicals, also known as reactive oxygen species – is perhaps the primary cause of diabetic retinopathy [Calderon 2017].
Coenzyme Q10 supplements at higher than normal doses (400- 500 milligrams per day) can decrease oxidative stress and increase antioxidant enzyme activity in patients [Sanoobar 2013].
Coenzyme Q10 supplements in the form of ubiquinone improve mitochondrial homeostasis and diminish the breakdown of the energy production process [Rodriguez-Carrizalez 2016].
Antioxidant effect of CoQ10 on mitochondrial function in the retina
Researchers at the University of Guadalajara in Mexico investigated the antioxidant effect of adjunctive Coenzyme Q10 treatment on mitochondrial function in blood cells in patients with diabetic retinopathy [Rodriguez-Carrizalez 2016].