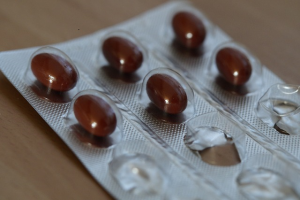 The active substance in the best Coenzyme Q10Coenzyme Q10 molecules are fat-soluble molecules that are both bsynthesized in the body and ingested in the diet and in supplements. Coenzyme Q10 is synthesized in the body in the same biological pathway as cholesterol. Bio-synthesis of Coenzyme Q10 begins to decline once humans reach their adult years. The reduced production of Coenzyme Q10 cannot be compensated in any practical... Read more about this term nutritional supplements is a natural substance that is extracted in a yeast fermentation process; the Coenzyme Q10 is not a synthetic substance.
The CoQ10 molecules in the best nutritional supplements are the same molecules as the CoQ10 molecules synthesized inside the mitochondriaThe mitochondria are the bean-shaped organelles in the cells. They are the key organelles with responsibility for the production of ATP energy molecules.... Read more about this term in human cells.
As we get older, our cells' ability to synthesize Coenzyme Q10 declines. Furthermore, the use of some drugs such as statin medications inhibits the cells' synthesis of Coenzyme Q10.  We need a good supplement to make up for the loss.