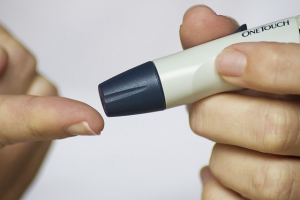 Diabetes is a serious disease. It is the seventh leading cause of death in the United States. It can be managed with exercise, diet, insulin, and other drugs to control blood sugar levels.
Coenzyme Q10 for Prevention and Adjunct Treatment of Type-2 Diabetes
In a 2017 article in the British Journal of Diabetes, Dr. David Mantle, a Fellow of the Royal Society of Chemistry and of the Royal College of Pathologists, makes the following points about the use of Coenzyme Q10Coenzyme Q10 molecules are fat-soluble molecules that are both bsynthesized in the body and ingested in the diet and in supplements. Coenzyme Q10 is synthesized in the body in the same biological pathway as cholesterol. Bio-synthesis of Coenzyme Q10 begins to decline once humans reach their adult years. The reduced production of Coenzyme Q10 cannot be compensated in any practical... Read more about this term supplements to prevent and treat type-2 diabetes:
CoQ10 depletion has been implicated in the pathogenesis of diabetes.
Coenzyme Q10 plays important roles in both mitochondrial bio-energeticsBio-energetics is both the process and the study of the flow and transformation of energy in living beings.  Coenzyme Q10 has both a bio-energetics function and an antioxidant function in the body.... Read more about this term and in antioxidantAntioxidants are substances that protect the cells and lipoproteins against the harmful effects of free radicals. They are substances that prevent the oxidation of other molecules and compounds. There are two broad categories of antioxidants: enzymatic and non-enzymatic. Non-enzymatic antioxidants are substances like Coenzyme Q10, vitamin C, vitamin E, glutathione, and various carotenoids. Prominent enzymatic antioxidants include catalase, glutathione peroxidase,... Read more about this term protection against oxidative stress.
Supplementation with Coenzyme Q10 can significantly improve glycemic control.
Supplementation with Coenzyme Q10 can improve vascular dysfunction.
Supplementation with Coenzyme Q10 may be of particular importance in type-2 diabetics who have been prescribed statinsStatins are a class of medications that effectively block the body's synthesis of cholesterol. In so doing, statins also block the body's synthesis of Coenzyme Q10.... Read more about this term.
Supplementation with Coenzyme Q10 may be of particular importance for patients with fatty liver disease.
Supplementation with Coenzyme Q10 is well tolerated, with no significantThe outcome of a clinical trial is thought to have statistical significance, or to be statistically significant, if the outcome is likely not caused by chance at a given statistical significance level, typically at the 0.05 level. Statistically significant outcomes may or may not be clinically significant. ... Read more about this term adverse effects reported in long-term use.
The importance of the formulation of the Coenzyme Q10 supplement with respect to product quality and bio-availability cannot be over-emphasized.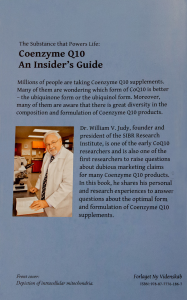 Three Different Forms of Coenzyme Q10 Supplements
Coenzyme Q10 occurs in the body in three closely related chemical forms: