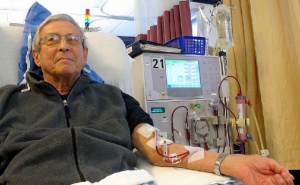 Supplementation of patients undergoing maintenance dialysis with 1200 milligrams of Coenzyme Q10 for four months has been shown to be safe and effective at reducing a bio-marker of oxidative stress [Rivara].
Super, I thought, when I read this report, which appeared in the medical journal The American Journal of Kidney Diseases.  The journal is the official journal of the National Kidney Foundation.
1200 milligrams a day.  That is four times the daily dosage used in Dr. Mortensen's Q-Symbio study of chronic heart failure patients.  Six times the daily dosage used in Dr. Alehagen's KiSel-10 study of elderly Swedish citizens.  And 1200 milligrams per day were safe and well tolerated.  Good news.  Not surprising news but good to see confirmed.