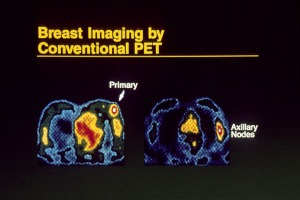 The published bio-medical journal literature about the efficacy of Coenzyme Q10 adjunct treatment in breast cancer care is sparse but promising. So concludes the author of a 2017 systematic review of the journal articles indexed in PubMed. PubMed is the free public index to the National Library of Medicine's Medline database [Tafazoli].
More well-designed clinical studies are needed to provide answers to questions about the adjuvant use of Coenzyme Q10 in breast cancer treatment and care:
Is Coenzyme Q10 effective as a single intervention agent?
Is Coenzyme Q10 more effective in combination with other nutritional supplements such as essential fatty acids and seleniumSelenium (symbol Se, atomic number 34) is a trace element that is an essential nutrient and an essential component of some of the most important antioxidants in the body, in particular the selenoproteins glutathione peroxidase, thioredoxin reductase, and selenoprotein P. Selenium is involved in the optimal functioning of the immune system. Professor Alehagen has pointed out that there exists a... Read more about this term?
What formulations and what daily dosages of Coenzyme Q10 are most effective?
Documentation about Coenzyme Q10 and breast cancer care
Coenzyme Q10 concentrations and breast cancer
Evidence from human breast tissue samples shows that Coenzyme Q10 concentrations are much lower in cancerous tissue than in normal tissue [Tafazoli].
Data from a case-control study has shown an inverse relationship between plasma Coenzyme Q10 concentrations and the incidence of breast cancer, independent of menopausal status [Tafazoli].
Cell line studies have shown that the addition of Coenzyme Q10 does not inhibit the apoptotic, anti-growth, and anti-colonization effects of the chemotherapy drug doxorubicin – trade name Adriamycin while it does protect the heart muscle [Tafazoli].
Coenzyme Q10 supplementation added to chemotherapy with doxorubicin (Adriamycin) prevents the mitochondrial damage and subsequent cardio-toxicity caused by reactive oxygen speciesThe free radicals of most concern in the bio-medical field are the free radicals derived from oxygen, they are called reactive oxygen species.  Specifically, there are the superoxide anions, the peroxides including hydrogen peroxide, and the hydroxyl radicals. Free radicals are unstable and highly reactive molecules that are produced in the body during normal oxygen metabolism. Free radicals play both... Read more about this term produced during the treatment with doxorubicin [Tafazoli].
Coenzyme Q10 and mammary carcinomas
An animal study has shown that oral administration of Coenzyme Q10 had the following effects on rats with induced mammary carcinomas [Tafazoli]:
reduction of the extent of lipid peroxidationOxidation is the chemical reaction of a substance with oxygen. Peroxidation is the extreme form of oxidation that results from free radicals' stealing electrons from lipids, either in the cell membranes or in the lipoproteins. The final product of lipid peroxidation is highly reactive malondialdehyde, a bio-marker for oxidative stress and damage.... Read more about this term
restoration of tissue antioxidants to near-normal levels
increased expression of tumor suppressor genes
improved anti-tumor and anti-proliferation activity
Coenzyme Q10 as adjuvant treatment of breast cancer patients
Adjuvant treatment of high-risk breast cancer patients with Coenzyme Q10, essential fatty acids, and other antioxidants resulted in the following desirable treatment outcomes in some of the patients [Lockwood]:
tumor remissions (in six of the 32 patients)
reduced opioid use for pain relief
prevention of distant metastases
no deaths after 24 months of adjuvant treatment
better quality of life
better than expected 5-year survival rates
Coenzyme Q10 and tamoxifen treatment of breast cancer patients
Adjuvant treatment of breast cancer patients taking tamoxifen (10 milligrams twice daily) with 100 milligrams of Coenzyme Q10, 10 milligrams of riboflavin, and 50 milligrams of niacin resulted in a significantThe outcome of a clinical trial is thought to have statistical significance, or to be statistically significant, if the outcome is likely not caused by chance at a given statistical significance level, typically at the 0.05 level. Statistically significant outcomes may or may not be clinically significant. ... Read more about this term suppression of tumor activity [Tafazoli].  Furthermore, the combination treatment added to the tamoxifen treatment had the following beneficial health effects [Tafazoli]:
improved antioxidantAntioxidants are substances that protect the cells and lipoproteins against the harmful effects of free radicals. They are substances that prevent the oxidation of other molecules and compounds. There are two broad categories of antioxidants: enzymatic and non-enzymatic. Non-enzymatic antioxidants are substances like Coenzyme Q10, vitamin C, vitamin E, glutathione, and various carotenoids. Prominent enzymatic antioxidants include catalase, glutathione peroxidase,... Read more about this term defense against breast cancer-related oxidative stress
reduced liver damage
improved lipid profile
Coenzyme Q10 and L-carnitine treatment with conventional treatment of breast cancer
Patients treated with Coenzyme Q10 and L-carnitine in addition to conventional chemotherapy showed significant improvement in various measures of cancer-related fatigue compared to patients treated exclusively with the conventional chemotherapy [Tafazoli].
A second recent study suggests that a combination of Coenzyme Q10 and L-carnitine is effective in controlling moderate to severe cancer-related fatigue in breast cancer patient [Iwase].
Why Coenzyme Q10 for breast cancer care?
Breast cancer is the most common form of cancer in the world today.  It has a high mortality rate.  All of the available treatment modes – chemotherapy, radiation, and surgery – have known complications:
partial effectiveness
severe adverse effects
high cost
Coenzyme Q10 supplements are affordable, well-tolerated, and safe for long-term use.
The results of the published clinical studies reviewed by Dr. Tafazoli suggest that Coenzyme Q10 as an adjunct to conventional treatment will be effective:
in suppressing tumor development
in improving antioxidant protection against cancer-related oxidative stress
in reducing cancer-related fatigue
Sources
Bjørklund, G. (2015). The Adjuvant Nutritional Intervention in Cancer (ANICA) Trial. Nutrition and Cancer, 67(8), 1355-1358.
Hertz, N., and Lister, R. E. (2009). Improved survival in patients with end-stage cancer treated with coenzyme Q(10) and other antioxidants: a pilot study. The Journal of International Medical Research, 37, no. 6: 1961-1971.
Iwase, S., Kawaguchi, T., Yotsumoto, D., Doi, T., Miyara, K., Odagiri, H., & … Yamaguchi, T. (2016). Efficacy and safety of an amino acid jelly containing Coenzyme Q10 and L-carnitine in controlling fatigue in breast cancer patients receiving chemotherapy: a multi-institutional, randomized, exploratory trial (JORTC-CAM01). Supportive Care In Cancer, 24(2), 637-646. doi:10.1007/s00520-015-2824-4
Lockwood, K., Moesgaard, S., Hanioka, T., & Folkers, K. (1994). Apparent partial remission of breast cancer in "high risk" patients supplemented with nutritional antioxidants, essential fatty acids and coenzyme Q10. Molecular Aspects of Medicine, 15 Suppls231-s240.
Tafazoli, A. (2017). Coenzyme Q10 in breast cancer care.  Future Oncology, 13.11: 1035-1041.
The information presented in this review article is not intended as medical advice and should not be construed as such.
Please click here for additional information on the health benefits of Coenzyme Q10 supplementation.