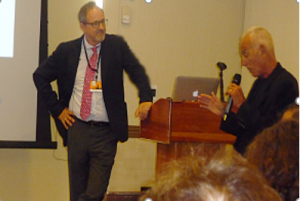 Coenzyme Q10Coenzyme Q10 molecules are fat-soluble molecules that are both bsynthesized in the body and ingested in the diet and in supplements. Coenzyme Q10 is synthesized in the body in the same biological pathway as cholesterol. Bio-synthesis of Coenzyme Q10 begins to decline once humans reach their adult years. The reduced production of Coenzyme Q10 cannot be compensated in any practical... Read more about this term is important to our understanding of the progression of the aging process and to our understanding of aging-related diseases such as cancer, cardiovascular disease, metabolic syndromeMetabolic syndrome is the medical term for a cluster of conditions such as excess body fat around the waist, high blood sugar, high blood pressure, high cholesterol or triglyceride levels. Metabolic syndrome is associated with increased risk of diabetes, heart disease, and stroke. Individuals with metabolic syndrome are at higher risk of heart disease, diabetes, and stroke and have, therefore,... Read more about this term and diabetes, neurodegenerative disorders, and kidney diseases [López-Lluch 2020].
This is the message of a 369-page book entitled Coenzyme Q in Aging. The book is edited by Professor Guillermo López-Lluch, Pablo de Olavide University, Sevilla, Spain. It is dedicated to the memory of Professor Fred L. Crane (December 3, 1925 – August 11, 2016), who first discovered Coenzyme Q10, one of the most important molecules in humans [López-Lluch 2020].
The greater part of the CoQ10 in our bodies comes from our own bio-synthesis of the substance rather than from our diets. However, after we reach maturity as we advance in years, our cells produce less and less CoQ10 [Kalen 1989]. It is necessary to make up for the decline by taking a daily CoQ10 supplement [Judy 2018].
The Coenzyme Q and Aging book is organized into four sections:
The Basics of CoQ10: focus on the main physiological functions of CoQ10.
Coenzyme Q in Aging Studies: results from studies using invertebrate models, senescence-accelerated mice studies, and mammal studies investigating the influence of CoQ on longevity.
Age-Related Diseases and CoQ10: mitochondrial dysfunctionMitochondrial dysfunction is the loss of efficiency in the process of ATP energy production.  As such, mitochondrial dysfunction is a factor in the ageing process and in virtually all chronic diseases including cancer, cardiovascular diseases, chronic fatigue syndrome and fibromyalgia, diabetes and metabolic syndrome, and neurodegenerative diseases. Coenzyme Q10 is an essential component in the mitochondrial production of ATP energy.... Read more about this term, metabolic syndrome, neurodegenerative disorders, and immunosenescence.
Prolongevity Effectors and CoQ10: research into slowing or stopping the aging process.
Why is CoQ10 Important in Aging?
CoQ10 Deficiency
In his introduction, Professor López-Lluch makes the point that primary deficiency of Coenzyme Q10 – the deficiency caused by breakdowns in the bio-synthesis of Coenzyme Q10 – is associated with severe and lethal diseases [López-Lluch 2020].
Secondary CoQ10 deficiency – caused by mitochondria dysfunction – is associated with the deterioration of biological activities and with the loss of physical function during aging [López-Lluch 2020].
Therapeutic Levels of CoQ10
The cardiologist Dr. Peter Langsjoen writes that plasma CoQ10 concentrations need to be raised to 2.5 micrograms per milliliter or higher to achieve a therapeutic effect in heart disease and to 3.5 micrograms per milliliter or high for a therapeutic effect on neurodegenerative diseases [Langsjoen 2014].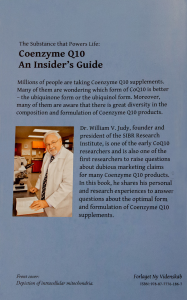 CoQ10 and the Symptoms of Aging
In 2018, Professors López-Lluch and Navas published an article about CoQ10 supplementation in aging and disease. They presented the available evidence that CoQ10 supplementation positively affects the symptoms of aging based mainly on improvements in cellular bio-energetics. Their article might be the best place for many readers to start [Hernández-Camacho 2018].
Sources
Farsi F, Heshmati J, Keshtkar A, et al. Can coenzyme Q10 supplementation effectively reduce human tumor necrosis factor-α and interleukin-6 levels in chronic inflammatory diseases? A systematic review and meta-analysis of randomized controlled trialsRandomized controlled trials are studies in which patients or healthy volunteers are assigned at random (purely by chance) to receive one or more clinical interventions. One or more of the interventions is the active treatment being tested. Another of the interventions is the control against which the active treatment is being tested. The control is, typically, the standard practice or... Read more about this term. Pharmacol Res. 2019;148:104290.
Hernández-Camacho JD, Bernier M, López-Lluch G, Navas P. Coenzyme Q10 Supplementation in Aging and Disease. Front Physiol. 2018;9:44.
Judy WV. Coenzyme Q10: An Insider's Guide. Ny Videnskab, 2018. ISBN: 978-87-7776-186-7.
Kalén A, Appelkvist EL, Dallner G. Age-related changes in the lipid compositions of rat and human tissues. Lipids. 1989;24(7):579-584.
Langsjoen PH, Langsjoen AM. Comparison study of plasma coenzyme Q10 levels in healthy subjects supplemented with ubiquinol versus ubiquinone. Clin Pharmacol Drug Dev. 2014;3(1):13-17.
Littarru GP, Lambrechts P. Coenzyme Q10: multiple benefits in one ingredient. OCL. 2011a;18(2):76-82.
Littarru GP, Tiano L, Belardinelli R, Watts GF. Coenzyme Q10, endothelial function, and cardiovascular disease. Biofactors. 2011b;37(5):366-373.
López-Lluch G, Del Pozo-Cruz J, Sánchez-Cuesta A, Cortés-Rodríguez AB, Navas P. Bioavailability of coenzyme Q10 supplements depends on carrier lipids and solubilization. Nutrition. 2019;57:133-140.
López-Lluch G., ed. Coenzyme Q and Aging. Springer Nature, 2020. ISBN: 978-3030456412.
Rosenfeldt FL, Haas SJ, Krum H, et al. Coenzyme Q10 in the treatment of hypertensionHypertension is abnormally high blood pressure, usually defined as adult systolic blood pressure above 140 mm Hg or adult diastolic blood pressure above 90 mm Hg. Systolic blood pressure is blood pressure measured during the contracting (pumping) of the left ventricle of the heart. Diastolic blood pressure is blood pressure measured during the relaxation of the left ventricle. A meta-analysis... Read more about this term: a meta-analysis of the clinical trials. J Hum Hypertens. 2007;21(4):297-306.
The information presented in this review article is not intended as medical advice and should not be used as such.
31 October 2020
Please click here for more information about CoQ10 supplementation
.