Judy Q10 Bioavailability Progression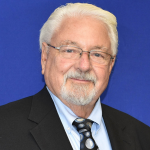 Dr. William V. Judy is the founder and president of the SIBR Research Institute, which is a full-service clinical research organization. Dr. Judy was one of the first researchers to do clinical research on Coenzyme Q10 together with Dr. Karl Folkers. Dr. Judy is a retired professor of physiology and biophysics. He has conducted randomized controlled trials of the absorption, efficacy, and safety of Coenzyme Q10 supplements for patients with congestive heart failure, chronic fatigue syndrome, Parkinson's disease, prostate cancer, and Prader-Willi syndrome. He is the author of the 2018 book The Substance That Powers Life: Coenzyme Q10, An Insider's Guide, available from amazon.com.
See biography on Wikipedia
You can read more about Dr. Judy here
.