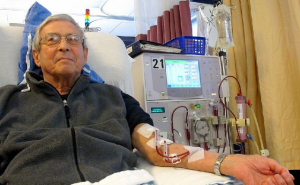 Supplementation of patients undergoing maintenance dialysis with 1200 milligrams of Coenzyme Q10Coenzyme Q10 molecules are fat-soluble molecules that are both synthesized in the body and ingested in the diet and in supplements. Coenzyme Q10 is synthesized in the body in the same biological pathway as cholesterol. Bio-synthesis of Coenzyme Q10 begins to decline once humans reach their adult years. The reduced production of Coenzyme Q10 cannot be compensated in any practical... More for four months has been shown to be safe and effective at reducing a bio-marker of oxidative stress [Rivara].
Super, I thought, when I read this report, which appeared in the medical journal The American Journal of Kidney Diseases.  The journal is the official journal of the National Kidney Foundation.
1200 milligrams a day.  That is four times the daily dosage used in Dr. Mortensen's Q-Symbio study of chronic heart failureThe Mayo Clinic defines heart failure, also known as congestive heart failure and/or chronic heart failure, as the failure of the heart muscle to pump blood to the body adequately.  In other words, heart failure is not a heart attack, and it is not death from heart disease, which its name might seem to imply. Heart failure is a condition... More patients.  Six times the daily dosage used in Dr. Alehagen's KiSel-10 study of elderly Swedish citizens.  And 1200 milligrams per day were safe and well tolerated.  Good news.  Not surprising news but good to see confirmed.