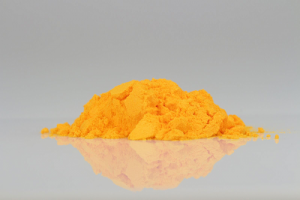 Absorption of the Coenzyme Q10 in commercial nutritional supplements varies considerably.  The dissolution of the CoQ10 crystals and the absorption of the Coenzyme Q10 molecules depend upon the composition of the oil matrix and the formulation of the CoQ10 nutritional supplement.  The manufacturer of a CoQ10 supplement must deal with raw material that is very difficult to work with.
Coenzyme Q10 Soluble in Lipids at Higher Temperatures
Coenzyme Q10 is practically insoluble in water but is soluble in lipids; however, no individual lipids have been found in which 100 milligrams of Coenzyme Q10 can be dissolved so that the dissolved Coenzyme Q10 molecules inside the nutritional supplement capsules will not re-crystallize at normal storage temperatures: typically, between 60 and 75 degrees Fahrenheit.