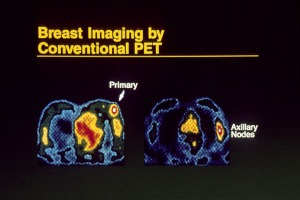 The published bio-medical journal literature about the efficacy of Coenzyme Q10 adjunct treatment in breast cancer care is sparse but promising. So concludes the author of a 2017 systematic review of the journal articles indexed in PubMed. PubMed is the free public index to the National Library of Medicine's Medline database [Tafazoli].
More well-designed clinical studies are needed to provide answers to questions about the adjuvant use of Coenzyme Q10 in breast cancer treatment and care:
Is Coenzyme Q10 effective as a single intervention agent?
Is Coenzyme Q10 more effective in combination with other nutritional supplements such as essential fatty acids and seleniumSelenium (symbol Se, atomic number 34) is a trace element that is an essential nutrient and an essential component of some of the most important antioxidants in the body, in particular the selenoproteins glutathione peroxidase, thioredoxin reductase, and selenoprotein P. Selenium is involved in the optimal functioning of the immune system. Professor Alehagen has pointed out that there exists a... Read more about this term?
What formulations and what daily dosages of Coenzyme Q10 are most effective?
Documentation about Coenzyme Q10 and breast cancer care
Coenzyme Q10 concentrations and breast cancer
Evidence from human breast tissue samples shows that Coenzyme Q10 concentrations are much lower in cancerous tissue than in normal tissue [Tafazoli].
Data from a case-control study has shown an inverse relationship between plasma Coenzyme Q10 concentrations and the incidence of breast cancer, independent of menopausal status [Tafazoli].
Cell line studies have shown that the addition of Coenzyme Q10 does not inhibit the apoptotic, anti-growth, and anti-colonization effects of the chemotherapy drug doxorubicin – trade name Adriamycin while it does protect the heart muscle [Tafazoli].
Coenzyme Q10 supplementation added to chemotherapy with doxorubicin (Adriamycin) prevents the mitochondrial damage and subsequent cardio-toxicity caused by reactive oxygen speciesThe free radicals of most concern in the bio-medical field are the free radicals derived from oxygen, they are called reactive oxygen species.  Specifically, there are the superoxide anions, the peroxides including hydrogen peroxide, and the hydroxyl radicals. Free radicals are unstable and highly reactive molecules that are produced in the body during normal oxygen metabolism. Free radicals play both... Read more about this term produced during the treatment with doxorubicin [Tafazoli].
Coenzyme Q10 and mammary carcinomas
An animal study has shown that oral administration of Coenzyme Q10 had the following effects on rats with induced mammary carcinomas [Tafazoli]: