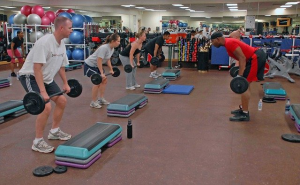 The substance Coenzyme Q10 has many properties that make it a logical nutritional supplement for athletes in training and for normal healthy people who exercise to stay fit.  Coenzyme Q10 supplements should help to improve exercise capacity and reduce the oxidative stress, muscle damage, and inflammationInflammation is an immune system response to an injury to cells or tissues. It is the body's attempt to defend against invaders such as bacteria andviruses and to mend the damage done by invaders. Typically, inflammation manifests itself in the form of fever and swelling, in the swarming of white blood cells and the release of cytokines to fight against... Read more about this term caused by strenuous exercise [Sarmiento].
The oxidized form of Coenzyme Q10 – ubiquinoneUbiquinone, the oxidized form of Coenzyme Q10, expressed as Q10 or CoQ10, is absolutely essential for the mitochondrial ATP energy production process. Ubiquinone is the form of Coenzyme Q10 that the body synthesizes, and ubiquinone is the form of Coenzyme Q10 that has been extensively tested for safety, absorption, and efficacy in clinical trials.... Read more about this term – is essential for cellular production of ATPATP (adenosine triphosphate) molecules are the high-energy molecules with easily broken phosphate bonds that release energy to the energy-requiring processes in the cells. Coenzyme Q10 is essential to the process of ATP production.... Read more about this term energy [Littarru].
The reduced form of Coenzyme Q10 – ubiquinol – is an important fat-soluble antioxidantAntioxidants are substances that protect the cells and lipoproteins against the harmful effects of free radicals. They are substances that prevent the oxidation of other molecules and compounds. There are two broad categories of antioxidants: enzymatic and non-enzymatic. Non-enzymatic antioxidants are substances like Coenzyme Q10, vitamin C, vitamin E, glutathione, and various carotenoids. Prominent enzymatic antioxidants include catalase, glutathione peroxidase,... Read more about this term protecting the cells and the mitochondriaThe mitochondria are the bean-shaped organelles in the cells. They are the key organelles with responsibility for the production of ATP energy molecules.... Read more about this term (and proteins and DNA) against the damage caused by harmful free radicalsFree radicals are unstable and highly reactive molecules that are produced in the body during normal oxygen metabolism. Free radicals derived from oxygen are known as reactive oxygen species. Free radicals play both helpful and harmful roles in the body. Free radicals steal electrons from other substances in order to become stable. In so doing, the free radicals oxidize those... Read more about this term [Bentinger].
Coenzyme Q10 promotes good endothelial function in the blood vessels [Belardinelli].
Coenzyme Q10 supplementation is associated with reduced levels of bio-markers for inflammation [Fan; Zhai].
Starting in our 20s, the bio-synthesis of Coenzyme Q10 declines with increasing age; thus, the need for CoQ10 supplements [Kalén].
CoQ10 and Exercise Study Results Inconsistent
But nothing is ever as straightforward as it seems. Until now (February 2020), the results from intervention studies of Coenzyme Q10 supplementation of athletes and healthy people taking exercise have not been as solid as the results from CoQ10 adjuvant treatment in other conditions have been: