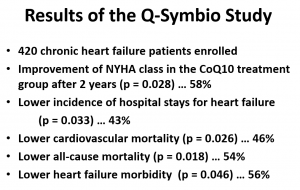 For 30-plus years now, bio-medical researchers have investigated and documented the functions of Coenzyme Q10 in the human body:
An essential role in cellular production of ATP energy [Littarru 2007]
An important antioxidant role preventing the oxidation of proteins, lipids, and DNA [Littarru 2007]
A role in the enhancement of endothelial function [Littarru 2011]
A beneficial role in the expression of genes involved in human cell metabolism, signaling, and transport [Garrido-Maraver]
Moreover, the scientific documentation shows that Coenzyme Q10 supplements are safe, are well-tolerated, and are effective as adjunctive treatments in diseases involving high cellular and tissue demands for energy and in diseases involving oxidative stress and oxidative damage [Garrido-Maraver].
Absorption and Bio-Availability of Coenzyme Q10
As we get older, our bodies produce less Coenzyme Q10 [Kalén].  It is not realistic to make up the difference in the diet [Judy].  Supplementation is necessary.