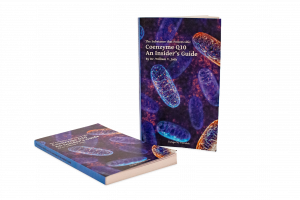 Human adults' bio-synthesis of the essential bio-nutrient Coenzyme Q10 declines with increasing age [Kalén].  That is unfortunate.

We humans need sufficient quantities of Coenzyme Q10 for various biological functions:
cellular production of ATPATP (adenosine triphosphate) molecules are the high-energy molecules with easily broken phosphate bonds that release energy to the energy-requiring processes in the cells. Coenzyme Q10 is essential to the process of ATP production.... Read more about this term energy
antioxidantAntioxidants are substances that protect the cells and lipoproteins against the harmful effects of free radicals. They are substances that prevent the oxidation of other molecules and compounds. There are two broad categories of antioxidants: enzymatic and non-enzymatic. Non-enzymatic antioxidants are substances like Coenzyme Q10, vitamin C, vitamin E, glutathione, and various carotenoids. Prominent enzymatic antioxidants include catalase, glutathione peroxidase,... Read more about this term protection of the cells against oxidative damage
maintenance of endothelial function in blood vessels
anti-inflammatory effects
Coenzyme Q10 Supplementation and Beyond
We can take a daily Coenzyme Q10 supplement, of course, and we should.  However, we should be very careful.
Commercially available CoQ10 supplements vary considerably in their formulation and in their absorption and bio-availability.  A cheap 30-cents-per day CoQ10 supplement at the supermarket or drugstore is most likely a poorly absorbed and ineffective supplement.