Recently, I asked why, exactly, the Coenzyme Q10 studies referenced below succeeded in giving statistically significant results, results that are also clinically significant.
Answer: the quality of the Q10 preparation
The Q10 results in these studies were significantly positive as compared to the placebo results because the manufacturer Pharma Nord, headquartered in Vejle, Denmark, produced the 100-milligram Q10 preparation Bio-Quinone (it was called Myoquinone in the Q-Symbio study) in the correct way without taking any shortcuts.
Specifically, Pharma Nord was …
following Good Manufacturing Practice … Bio-Quinone is manufactured under strict Danish pharmaceutical control.
using a more expensive Pharmaceutical Grade raw material … Pharma Nord has not settled for a food grade raw material for the Active Pharmaceutical Ingredient in Bio-Quinone.
maintaining a Drug Master File … Bio-Quinone has been approved and registered as a medicine within some European Union member states.
pre-heating the Q10 raw material in a patented process designed to prevent the formation of Q10 crystals inside the soft-gel capsules (the body cannot absorb crystals, only single molecules).
encapsulating the Q10 molecules in a carefully researched mixture of vegetable oils (which is supplied by certified sustainable farming operations) in gelatin capsules.
documenting the safety, absorption, and effects of Bio-Quinone in some 90 research studies.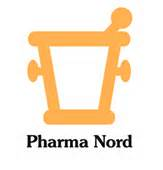 Consistency in each and every Q10 batch
By following these practices, Pharma Nord has been able to ensure the consumer that Bio-Quinone will be of the same quality in each and every batch produced.
Too many Q10 manufacturers do not follow such a strict regimen.   Their more relaxed approach to supply issues and manufacturing issues keeps their prices down, but the consumer cannot be sure of getting a consistently well absorbed product.
Shortcuts in Q10 preparation = inferior quality
Yes, there is no doubt that you can find lower prices at Walmart and at Amazon.com.  But, please think about it.  Taking short-cuts such as the ones listed below will help other Q10 manufacturers to keep their retail prices down, but taking shortcuts will surely guarantee a poorly absorbed product:
not buying pharmaceutical grade material
not following good manufacturing practices
not doing the necessary research into methods of preventing the formation of Q10 crystals
Easy to make Q10 claims, hard to do solid research
Any and all of the Q10 manufacturers can claim to use branded ingredients that are thoroughly researched.   That is an easy claim to make.
But getting the Q10 preparation Bio-Quinone approved and registered as a medicine for the adjuvant treatment of chronic heart failure patients by the authorities in some European Union member states – the equivalent in Europe of getting approval from the Food and Drug Administration in the US – is much more impressive than the making of unsubstantiated claims.
Moreover, using the Q10 preparation Bio-Quinone in randomized, double-blind, placebo-controlled studies and achieving statistically significant results for real patients in real clinical settings, now that is much more impressive than any unsubstantiated marketing claim.  Testing the product in double-blind studies is really putting the product's reputation on the line.
Problems with herbal remedies in the US
We need to remember that, not long ago, in tests of some of the top-selling store brands of herbal remedy supplements at four national retailers — GNC, Target, Walgreens and Walmart — investigators found that many of the herbal remedy products did not contain the active pharmaceutical ingredient listed on their labels.
The tests showed that many tablets and capsules that were labeled as medicinal herbs contained, in actuality, inexpensive fillers such as powdered rice, extracts from asparagus and from common houseplants. What is worse is that some of the herbal remedies contained substances that could be dangerous to consumers with allergies.
Caveat emptor … same problems with Q10 products?
The same types of problems that have been seen in herbal remedies in the US – caused by manufacturers taking shortcuts to increase profits – could well be occurring in the Q10 products sold in the US, particularly in the less expensive Q10 products. for example, Pharma Nord does not use olive oil in its Bio-Quinone formulation.  Test showed that the Coenzyme Q10 does not dissolve well in olive oil.
Yes, you can buy incredibly cheap Q10 products in the US, but can you be confident that you are getting a safe, well-absorbed, efficacious product?  Coenzyme Q10 is one of those products where you get what you pay for.
Good quality Q10 necessarily costs more
Pharmaceutical quality raw material and good manufacturing practices necessarily add to the cost of producing the Q10 product.  Spending money on research necessarily adds to the cost of producing the Q10 product.
The reward for spending a bit more on the Q10 product is that you, the consumer, know that you are getting a product that will be absorbed well.   This is important because Coenzyme Q10 is a fat-soluble substance that is quite difficult to prepare in a way that the body can absorb.