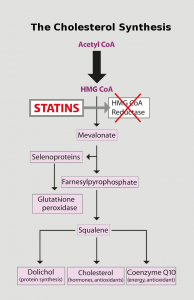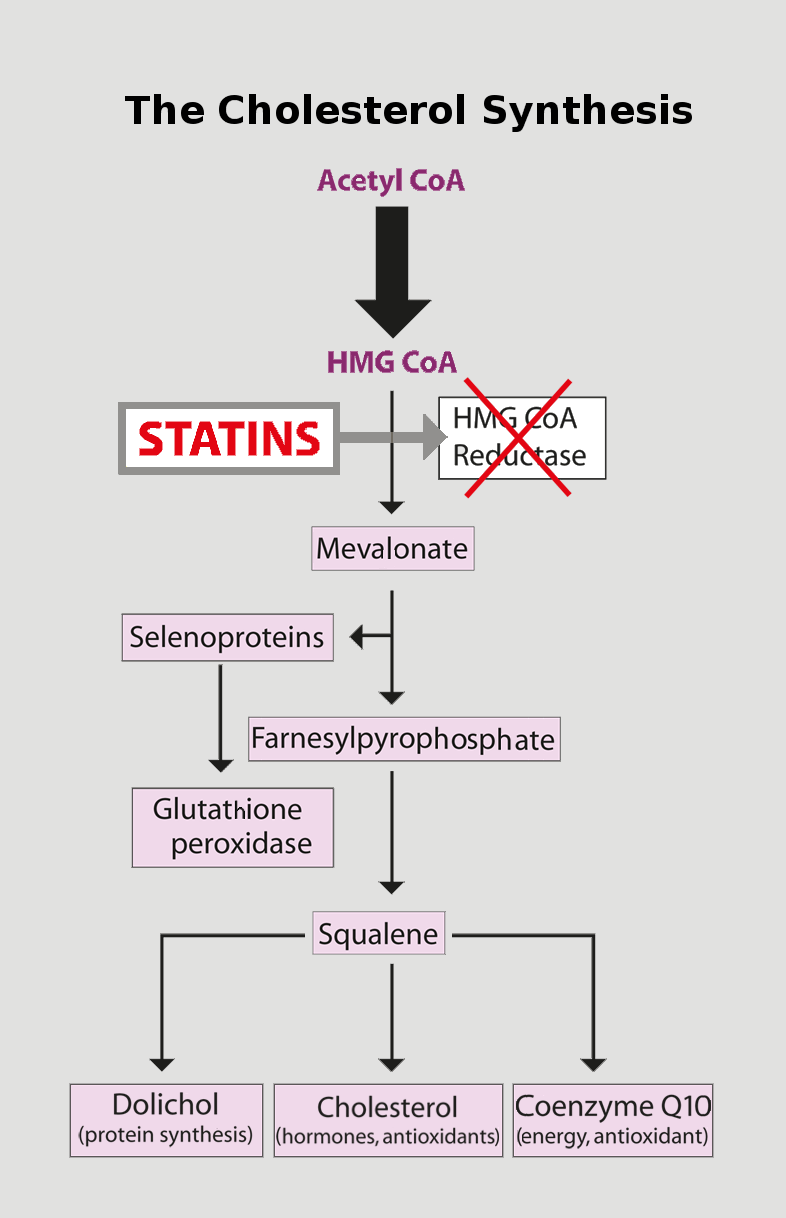 There are two issues concerning the use of statin medications that relate to Coenzyme Q10.  
The more serious issue is that several animal and human studies have shown that the administration of statin medications leads to a reduction in the plasma and muscle tissue levels of Coenzyme Q10.  There is no doubt that depletion of Coenzyme Q10 is an unintended consequence of taking statin medications.  Some human trials have shown the extent of the reduction to be 40 % or greater.  Furthermore, ageing seems to play a role in the diminution of Coenzyme Q10 levels caused by the administration of statin medications [Deichmann].  Decreased plasma and heart muscle tissue levels of Coenzyme Q10 are associated with the increasing severity of heart failure [Folkers, Mortensen].
The second lesser issue is the concern that the use of statin medications may cause muscle pain and muscle weakness.  The US Food and Drug Administration has warned that some drugs may interact with statins in ways that can cause muscle damage [US FDA 2014].  Co-administration of a good Coenzyme Q10 supplement with the statin medication may reduce the risk of muscle damage.  However, we need results from a large randomized controlled study to shed more light on the beneficial effect of a combination of statin medications and Coenzyme Q10 supplements  [Littarru].
Statins block our bodies' synthesis of Coenzyme Q10
Whenever we consider taking a statin medication, we need to be asking the cardiologist about the inhibiting effect of statin medications on our bodies' synthesis of Coenzyme Q10.
We need to ask because cholesterol and Coenzyme Q10 are produced in the same biological pathway in the body.  Basically, the body's production of cholesterol requires mevalonate, a derivative of mevalonic acid.  Statin medications work by inhibiting the production of mevalonic acid and mevalonate.  But mevalonate is also necessary for the production of the isoprenoid tail of the Coenzyme Q10 molecule [Littarru].
One of the risks involved in taking a statin medication is the risk of lowering too much the concentration of Coenzyme Q10 in the blood and in the heart muscle cells.  Studies have shown that statin therapy reduces plasma Coenzyme Q10 concentrations  [McMurray, Molyneux].
Coenzyme Q10 and the cells' production of energy
Why is Coenzyme Q10 so important?  Coenzyme Q10 is a powerful antioxidant protecting DNA and lipids and proteins against oxidative damage.  It is also a vital component of the cellular process of energy production [Mortensen].  The extent to which statin medication leads to the depletion of Coenzyme Q10 in the plasma has been extensively investigated [Littarru & Langsjoen].
Increasing our intake of Coenzyme Q10
The only ways to increase plasma and muscle tissue levels of Coenzyme Q10 as we age are:
to exercise
to absorb more Coenzyme Q10 from food and supplements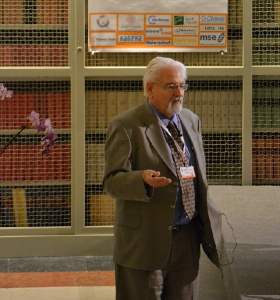 Difficult to get enough Coenzyme Q10 from our food
As we get older, past our 30s and into our 40s and middle age and old age, our bodies synthesize less and less Coenzyme Q10 even if we are not taking a statin medication.  It is difficult if not impossible to make up the resulting deficit from food alone.
Good daily Coenzyme Q10 supplement necessary
In the end, the only way for middle-aged people and senior citizens to get enough Coenzyme Q10 to protect their heart muscle tissue is to take a good daily Coenzyme Q10 supplement.
Formulation of the Coenzyme Q10 supplement is all important
There is considerable variation in the quality of the Coenzyme Q10 supplements available in the United States.  The big difference comes not from the raw material itself but from the processing of the raw material into a supplement that is dissolved in vegetable oils and contained in soft-gel capsules.  The formulation of the Coenzyme Q10 supplement is the decisive factor.
Until now (early 2017), there is no persuasive documented evidence that it makes sense to purchase a ubiquinol supplement instead of a Coenzyme Q10 supplement using the ubiquinone form of Coenzyme Q10.  The ubiquinol products are generally unstable and untested in well-designed studies.
Gold standard studies show the effect of Coenzyme Q10 supplements
In recent years, well-designed randomized controlled studies have shown beneficial heart health effects of daily supplementation with Coenzyme Q10 in the ubiquinone form.
Q-Symbio study (Mortensen 2014):
Adjuvant treatment with Coenzyme Q10 – i.e. Coenzyme Q10 in addition to conventional medication – of chronic heart failure patients for a two-year period yielded these results.  Taking 300 milligrams of Coenzyme Q10 every day — 100 milligrams three times daily with a meal — was:
safe
beneficial to chronic heart failure symptoms and survival
associated with reduced incidence of major adverse cardiovascular events (hospitalizations, surgeries, etc.)
KiSel-10 study (Alehagen 2013, 2015):
Four-year supplementation of elderly citizens aged 70 – 88 years with a combination of high selenium yeast and Coenzyme Q10 reduced the risk of death from heart disease.  Positive effects of the supplementation were seen in improved heart function on echocardiograms and in reduced levels of a bio-marker for heart disease.
Follow-up studies have shown that the beneficial effects have persisted to the ten-year point following the commencement of the four-year supplementation.  The daily dosage was 200 micrograms of high selenium yeast and 200 milligrams of Coenzyme Q10, taken separately as 2 times 100 milligrams each day, with meals.
Conclusion
Statin medications are every effective at what they do: reduce the risk of heart attack.  But they may be implicated in the increasing prevalence of chronic heart failure through their inhibition of the body's synthesis of Coenzyme Q10 [Okuyama &Langsjoen].
Dr. Judy believes that it is the elderly — and perhaps the overly obese — who are at most risk from the unintended consequences of statin medications.  One problem with the research results that are available to us at present is that they are from heterogeneous study samples that have mixed younger and older participants.  The age range in the studies has been too large. We need for researchers to do studies exclusively in the more receptive older population.
Coenzyme Q10 capsules are safe, effective, and affordable.  If you have to take a statin medication, it makes sense to talk to a cardiologist about taking a good Coenzyme Q10 supplement too.
Sources
Alehagen, U., Johansson, P., Björnstedt, M., Rosén, A., & Dahlström, U. (2013). Cardiovascular mortality and N-terminal-proBNP reduced after combined selenium and coenzyme Q10 supplementation: a 5-year prospective randomized double-blind placebo-controlled trial among elderly Swedish citizens. International Journal of Cardiology, 167(5), 1860-1866.
Alehagen, U., Aaseth, J., & Johansson, P. (2015). Reduced Cardiovascular Mortality 10 Years after Supplementation with Selenium and Coenzyme Q10 for Four Years: Follow-Up Results of a Prospective Randomized Double-Blind Placebo-Controlled Trial in Elderly Citizens. Plos One, 10(12), e0141641.
Deichmann, R., Lavie, C., & Andrews, S. (2010). Coenzyme q10 and statin-induced mitochondrial dysfunction. The Ochsner Journal, 10(1), 16-21.
Folkers, K., Vadhanavikit, S., & Mortensen, S. A. (1985). Biochemical rationale and myocardial tissue data on the effective therapy of cardiomyopathy with coenzyme Q10. Proceedings of The National Academy of Sciences of The United States of America, 82(3), 901-904.
Littarru, G. P., & Tiano, L. (2010). Clinical aspects of coenzyme Q10: An update. Nutrition, 26(3), 250-254.
Littarru, G. P., & Langsjoen, P. (2007). Coenzyme Q10 and statins: biochemical and clinical implications. Mitochondrion, 7 SupplS168-S174.
McMurray, J.J.V, Dunselman, P., Wedel, H., et al.  (2010).  Coenzyme Q10, rosuvastatin, and clinical outcomes in heart failure: a pre-specified sub-study of CORONA (Controlled Rosuvastatin Multinational Study in Heart Failure)," Journal of the American College of Cardiology, 56, 15, 1196–1204.
Molyneux, S.L., Florkowski, C.M., Lever, M. & George, P.M.  (2005).  Biological variation of Coenzyme Q10.  Clinical Chemistry, 51, 2, 455–457.
Mortensen, S. A., Rosenfeldt, F., Kumar, A., Dolliner, P., Filipiak, K. J., Pella, D., & Littarru, G. P. (2014). The effect of coenzyme Q10 on morbidity and mortality in chronic heart failure: results from Q-SYMBIO: a randomized double-blind trial. JACC. Heart Failure, 2(6), 641-649.
Mortensen, S. A. (2011). Low coenzyme Q₁₀ levels and the outcome of statin treatment in heart failure. Journal of The American College of Cardiology, 57(14), 1569; author reply 1569.
Mortensen, S. A. (2003). Overview on coenzyme Q10 as adjunctive therapy in chronic heart failure. Rationale, design and end-points of "Q-Symbio"–a multinational trial. Biofactors (Oxford, England), 18(1-4), 79-89.
Okuyama, H., Langsjoen, P. H., Hamazaki, T., Ogushi, Y., Hama, R., Kobayashi, T., & Uchino, H. (2015). Statins stimulate atherosclerosis and heart failure: pharmacological mechanisms. Expert Review of Clinical Pharmacology, 8(2), 189-199.
US Food and Drug Administration.  92014, Jan. 31).  FDA expands advice on statin risks.  Consumer Updates.  Retrieved from http://www.fda.gov/ForConsumers/ConsumerUpdates/ucm293330.htm.
Please click here for more information about Coenzyme Q10 supplementation.